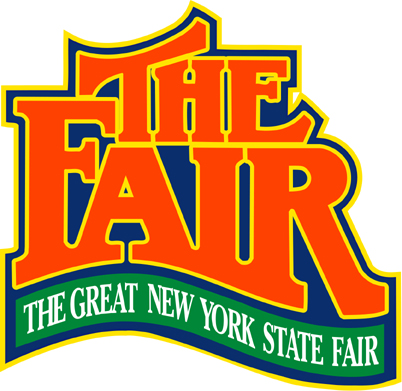 August 18, 2023 — The New York State Fair is an exciting time for many New Yorkers. The annual event in Syracuse marks the informal end of summer with livestock competitions, midway rides, the butter and sand sculptures, and of course, whatever crazy food vendors decide to fry! But for a handful of PEF members, the fair is a year-round affair. 
PEF members are involved in various parts of the fair — from audio and video production to social media and public information sharing and more.  
Alice Maggiore is the Associate Director of Public Information. Maggiore describes herself as "the fair's liaison." 
"It's enlightening to watch how all of the departments – led by experts in their areas – come together to produce one of the coolest large-scale events in the state," Maggiore said. 
Maggiore and the Public Relations department work with booking companies to secure artists and acts for the concert series. This year's lineup includes Quiet Riot, Ludacris, REO Speedwagon, and many more. (Click here for a day-by-day schedule of who is performing and where.) 
"Booking national entertainment acts is a year-round process," Maggiore said. "And the ball is already rolling now, before the 2023 Fair begins, to book acts for 2024." 
Other PEF members work to make sure New Yorkers don't forget about the fair when summer rolls around. 
Spencer Kenney is the Digital Content Creator for The Fair. Although The Fair only runs for about two weeks, Kenney tries to make sure that it stays relevant all year. 
"I try to keep people thinking, talking, and dreaming about The Fair," said Kenney. "I do so by trying to tie The Fair to things that are happening in pop culture in the moment," Kenney said. "Even though The Fair is only a 13-day event, it is the State's largest party, and a lot goes into planning that. We also have events all year that I will create content for so we can help promote The Fairgrounds as an events center during the off season." 
Bill Cooper, the Audio/Video Production Specialist at The Fair, agrees.  
"It's a 365-day operation, not a 13-day festival," Cooper said. 
Cooper spends much of his time as a production specialist making sure that all the audio, video and networking systems operating throughout The Fairgrounds are running without issue. He also works before and during the event with production companies who stage various events and performances across the grounds. For Cooper, the way the job is constantly changing is not only a challenge, but a fun reward as well. 
As opening day approaches on Aug. 23, these PEF members are focused on "crossing T's and dotting I's," according to Maggiore. For Maggiore, this means working with agencies to make sure the advertising campaign is ready and ultimately making sure all the other pieces — like schedules, maps and press releases—are ready to go. 
But Maggiore, Kenney and Cooper make sure to find time to enjoy The Fair as well. 
"As a fairgoer, I always had my routine for a full fair day. I would often spend 7-8 hours here in one day, and then return to do it all over again," Maggiore said. "First, I had to walk through the Center of Progress Building and see if there were any 'must purchase' products. Then, I had to visit my favorite building, the Dairy Building, to see the Butter Sculpture up close, and spend $2 in the Milk Bar so that I could get my first round of milk." 
Kenney said it's very easy to figure out what his favorite thing at the Fair is: "The food!" 
For Cooper, variety is the spice of The Fair. 
"The Fair takes more than one day to appreciate everything. There's so much to see from an agriculture and entertainment perspective – and there are lots of changes over the course of 13 days," he said. 
The Fair begins on August 23 and lasts until September 4. Kenney, Cooper and Maggiore all hope that fellow PEF members will make the trip to experience New York State's biggest party. If you go, be sure to visit the PEF booth at the Center for Progress building to say hi to your union family and get the latest PEF news.