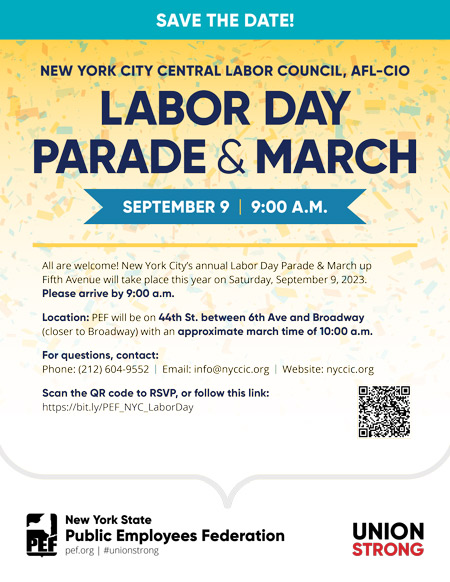 August 18, 2023 — Labor Day Parades around the state will be in full swing in just a few weeks. PEF will have a presence in most of them, marching in a show of union strength and solidarity.  
PEF Region 1 is planning to march in the Western New York AFL-CIO Labor Day Parade on September 4.  The parade begins near Dorance and McKinley at the South Buffalo/Lackawanna Border and will travel to Cazenovia Park. A picnic is planned for members at the park. Members are encouraged to park their cars near the casino at Cazenovia Park, as shuttles will be available to bring members to the start of the parade. For more information, members should contact Region 1 Coordinator Michele.Iorfida@pef.org or PEF Region 1 Political Action Committee Co-Chair Joseph.McCann.@pef.org.  
PEF Region 3 is also marching on September 4. Members, friends, and family who attend will get a T-Shirt. There are plans for lunch, drinks, clappers, and other noise makers to be distributed as well. PEF's line-up location is still being decided and that information will be given once members RSVP. Interested members should reach out to Annabelle Fritz in the Region 3 office via email: Annabelle.Fritz@pef.org 
PEF Region 7 will have their Solidarity Labor Day Parade and Picnic on September 4 in Massena. Members in attendance will have a chance to win a Yeti Tundra 45 cooler. All members and family will receive a T-Shirt with the slogan: "Our Heritage, Our Future." There will be hamburgers, hot dogs, bounce houses and more. The picnic will be held at Springs Park from 12pm to 3pm. Members are encouraged to park at Springs Park and call to arrange a shuttle to take them to the starting point for the parade. For more information see this flyer or reach out to Region 7 Coordinator Barb Stransky at Barbara.Stransky@pef.org.  
In Region 4, members visiting the The Fair in Syracuse on its closing day, Sept. 4, are invited to participate in a march around the fairgrounds. The Fair, which begins on August 23 will have a PEF booth where members may sign up to participate in the march. Likewise, members can contact Marcia Finizio at the Region 4 Office at 315-471-2311 for details. 
In Region 8, PEF will participate in the Michael L. Burns Labor Day Parade held by the Capital District Area Labor Federation on September 8. The arrival location is at Academy Park, across from the State Capitol building. The arrival time for the parade is 4:45 p.m., with line-up between 5 and 5:15 p.m. The parade begins at the New York State Education Building and steps off at 6. There will be food and music, along with a rock wall and evening fireworks sponsored by PEF, at the end of the parade in Corning Park. Parking is available in the park, with a free shuttle up to the staging area. Members can RSVP using this link.

Last but not least, downstate regions will be participating in the annual New York City Labor Day Parade, which this year takes place on Saturday, September 9. Snacks, water, noisemakers and signs will all be provided, and PEF will have a float! Line-up begins at 9 a.m. and the parade steps off at 10. PEF Members will meet at West 44th St., between 6th Avenue and Broadway. There will also be four PEF vehicles in the parade for anyone who can't walk the distance or needs to rest. Governor Hochul is likely to march this year and the union hopes for a large turnout to show her our PEF pride! Members can register for the fair using this link and are also encouraged to share this flyer with their networks. 
Labor Day is a time to celebrate, but also remind New York State — and the world—about the power and unity that unions provide their members.