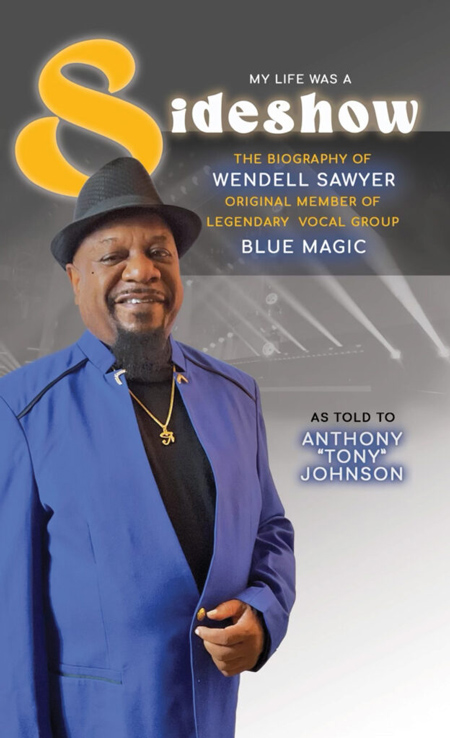 July 28, 2023 — Former New York State Parole Officer and PEF Retiree Anthony Johnson has authored a new book based on the life of Wendell Sawyer, the lead singer of the R&B and Soul music group Blue Magic. 
The book is titled "My Life Was a Sideshow: The Biography of Wendell Sawyer, Original Member of Legendary Vocal Group Blue Magic." The title is a reference to one of the group's most popular songs: "Sideshow." 
Johnson published his first book in 2016 called "One Man's Journey: The Experiences of an African American N.Y. State Parole Officer." In that book, he took his own experiences as an officer and made them into a fictional story starring the main character Terrance "End Zone" Jackson.  
It was while working on the sequel to "One Man's Journey" that Johnson received a call from Sawyer. 
"A mutual friend of my wife reached out and she gave Wendell my book," Johnson said. "He called me up and asked me to help write his story."  
Over the course of three-and-a-half years, even throughout the pandemic, Johnson and Sawyer worked closely together to get all the details of Sawyer's life on paper or on tape. The two would meet for roughly three hours a day and work. 
Despite the change of genre from fiction to memoir, Johnson felt a personal connection to the book and to Sawyer.  
"We both grew up and Philadelphia," he said. "His music, the group, that was my era. I have always been a Blue Magic fan. I love their music." 
Johnson describes the book as a "tell all," starting with Wendell Sawyer's upbringing in Philadelphia all the way through his journey as a student exploring music and singing and ultimately forming Blue Magic.  
The book also details the group's run-ins with other legendary musicians and entertainers, like The Temptations, Richard Pryor and Ike and Tina Turner. 
"There's a very interesting piece of his story where the group ends up opening for and performing much better than Ike and Tina," Johnson said. "When they got on stage the crowd was chanting for Blue Magic instead!" 
In addition to the highs of Sawyer's life and the R&B group's success, the book also deals with the lows. 
"He was painfully honest with me," Johnson said about Sawyer. "There were times when I even thought he might cry." 
Sawyer was only 19 when he signed his first contract. In addition to knowing nothing about money at such a young age, Sawyer struggled with drugs and navigating the harsh music industry without any advice or help. 
The book is not just a good read for those interested in Sawyer's life, but anyone who is a big music fan.  Johnson writes about Sawyer's journey through the popular music of each decade.  
"As a music lover, I was impressed with how Wendell broke down the progression of R&B from the doo-wop time of the 50s, to Motown of the 60s, and to his groups' time of the balladeers in the 70s. Disco soon followed and hurt the slow love music that his group performed." 
"My Life Was a Sideshow: The Biography of Wendell Sawyer, Original Member of Legendary Vocal Group Blue Magic" publishes in September and will be available for sale wherever books are sold or on Amazon. Interested readers can also visit Johnson's website at AnthonyJohnsonBooks.com.