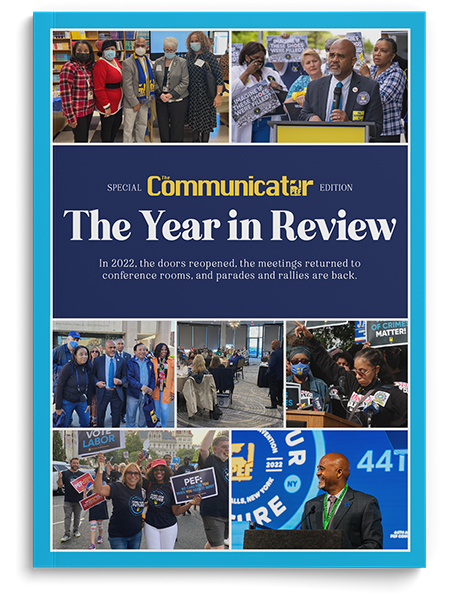 December 21, 2022 — Over the course of the COVID-19 pandemic, much of our interaction with each other was through a screen. When we did venture out, we stood in lines six feet apart. So in 2022, standing in solidarity took on a different look. Doors reopened, meetings returned to conference rooms, and parades and rallies were back.  
Here are some of the highlights of the past year as they appeared in the pages of The Communicator: 
December/January 
PEF rallied with parole officers to denounce the "Less is More" parole reform law, calling out its serious repercussions for community safety, parole supervision, and crime victims. The union held rallies in Albany and outside Riker's Island, drawing crowds and media attention to the cause.  
February 
PEF negotiated georgraphic raises for SUNY Downstate, worked hard to close the salary gap between private and public-sector nursing positions; secured extensions of 2.5 overtime agreements for certain titles; and negotiated HSCA and DCAA balance carryovers. The union is always busy protecting you on the job, advocating for you, and securing your benefits. 
March 
Nurse Lobby Day brought to light the many challenges facing PEF nurses and the nursing profession in general. Nurses came together to talk about hazard pay bonuses, improving recruitment and retention, revamping the Tier 6 pension plan, and addressing toxic workplaces. Their sentiments were bolstered by testimonials from the 2021 Convention, highlighting these challenges.  
April 
PEF took a deep dive into Gov. Kathy Hochul's 2023 budget, closely examining the proposals and how they would impact PEF's ranks. The budget is the first in President Wayne Spence's tenure as president that begins to take into consideration – and reward – the critical work of public employees and delivered big wins for PEF. 
May 
Legislators joined PEF in support of nurses during the Nurses Day of Action in Albany. The challenges of short staffing, mandatory overtime, and pay gaps took center stage at the State Capitol. PEF also partnered with one of our parent unions, AFT, to conduct a "Membership Blitz," knocking on doors and visiting worksites across the Capital Region. Joined by out-of-state volunteers from other AFT locals, PEF members and leaders shared the news of the union and signed up new members during the weeklong event. 
June 
PEF notched significant legislative wins, including penalties for mandating nurse overtime; requiring agencies to conduct cost-benefit analysis to determine if projects would be equal or less expensive to keep in-house; and legislation requiring OPWDD to publicly report the number and nature of state-operated facilities for the developmentally disabled. PEF officers embarked on a "Statewide Officers Tour," visiting worksites, attending open houses, answering questions, and listening to the needs and wants of members across the state. 
July/August 
Members in New York City testified about the strained state of mental health services at a hearing held by Attorney General Leticia James, continuing to push legislators and elected leaders to learn about and address the needs of New Yorkers. PEF also secured geo pay for additional nursing titles statewide, continued negotiations to extend 2.5 times overtime rates, and Membership Benefits hosted its annual Family Fun Days.  
September 
PEF members made a strong showing at Labor Day rallies, picnics and parades across New York in 2022. Hundreds marched in the annual Albany Parade (watch a video here), calling for respect and a fair contract, and letting the public know PEF members are there for them when they need them most. The union also selected the recipients of its annual Joseph Scacalossi Scholarships. 
October 
After decades of advocacy, PEF's calls for restructuring nursing titles were recognized. In response to a pay equity study, the state upgraded select nursing titles, increasing hiring rates and updating shift pay. PEF is continuing the advocate for restructuring and/or reallocation of titles at other agencies across New York. The fight isn't over. 
November 
Convention topped the table of contents in November, with news from the 44th Annual Convention in Niagara Falls. More than 460 delegates focused on the theme, Reclaim Our Future, and conducted all the business of the union planned for that year. President Wayne Spence recounted the vital strides the union made in 2022, earning statewide and national respect in the labor movement. Speakers pledged their support and praised members for all their hard work. The Contract Team was introduced and began preliminary meetings with the state ahead of the expiration of the 2019-2023 PS&T Contract on April 1, 2023. 
Onward and upward in 2023!