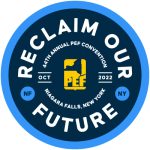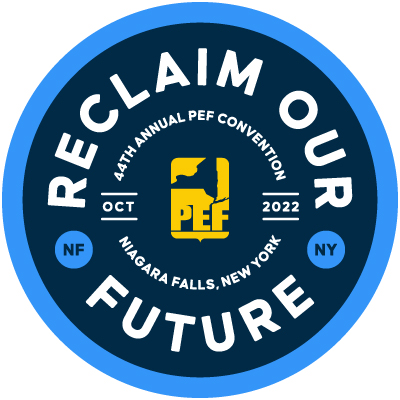 Diversity. Inclusion. Equity. The PEF Black Caucus, the Hispanic Committee, the Indo-American Committee, the Jewish Committee, and the Caribbean Committee came together during the Convention to share their heritages with fellow delegates and call for diversity, inclusion and equity within PEF and in our communities.
The Hispanic Committee talked about a pilot program to offer Civil Service exams in other languages. The Black Caucus, organized the same year as PEF, shared its history and mission, to recognize the importance of diversity and inclusion and offer scholarships to college students.
At the Caribbean Committee presentation, members dressed up and entered the room carrying bananas, singing and distributing food to each table as PEF Vice President Sharon DeSilva shared the story of how banana pickers worked long hours for little pay and under horrible conditions. She said Caribbean people leave beaches and come to America for the same benefits and freedoms we enjoy.
The Jewish Committee discussed the diversity within the Jewish community, from Africa, to China, the hispanic countries, to Cuba, where Jewish culture has been around since the Spanish Inquisition.
Celebrating Diwali, the Indo-American Committee shared its Festival of Lights with delegates.
"We need to expose others to this," said PEF President Wayne Spence. While you may not be able to travel to Morocco, he said, you can experience the culture through Moroccan food. Next year, he hopes planning for the event can begin sooner and delegates can get a taste of the many cultures represented within PEF.