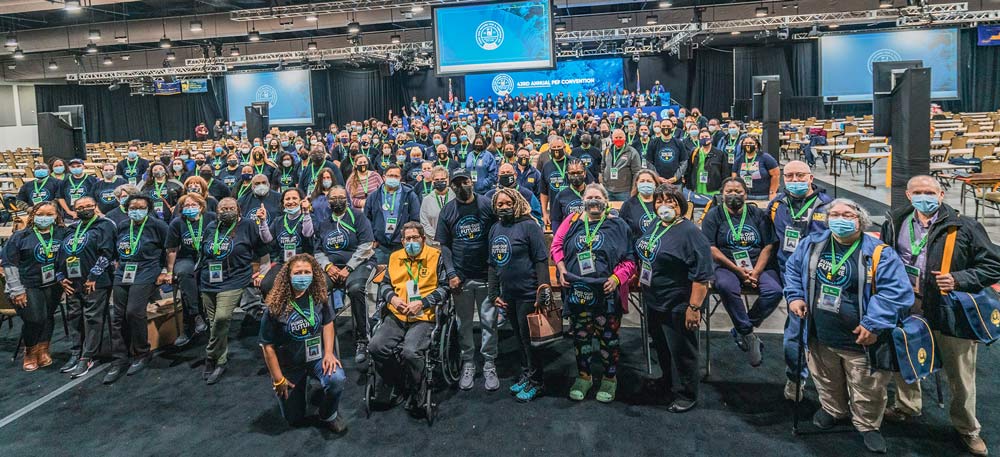 November 5, 2021 — PEF's 43rd Annual Convention, held October 24-27 in Niagara Falls, was remarkable on several levels.  The delegates were largely unified on the issues they debated and voted on. They were glad to be together, to be able to see each other and interact in person, after enduring the 2020 virtual convention necessitated by the COVID-19 pandemic.  And delegates completed all of their work, including consideration of 27 resolutions and setting the union's state and federal legislative agendas.
They heard annual reports from the union's leaders, trustees and the comments of guest speakers.
In addition to all of their work in the plenary sessions, delegates also participated in numerous other activities, such at attending workshops on a broad range of topics from division treasurer training to how to avoid being charged by the state Justice Center for the Protection of People with Special Needs, or the work of the Joint Affirmative Action Advisory Committee.
"I am so amazed by your professionalism, by your empathy and by your unity and respect for each other," PEF President Wayne Spence told the delegates as the event ended on Oct. 27. Spence admitted that he originally thought it might be better to forego an in-person convention for one more year, just to avoid any risk of infection and the divisive effects of the state vaccination mandates. 
In fact, the more than 460 delegates chose to linger just a bit longer so the Convention photographer could capture the photo at the top of this story. 
President's message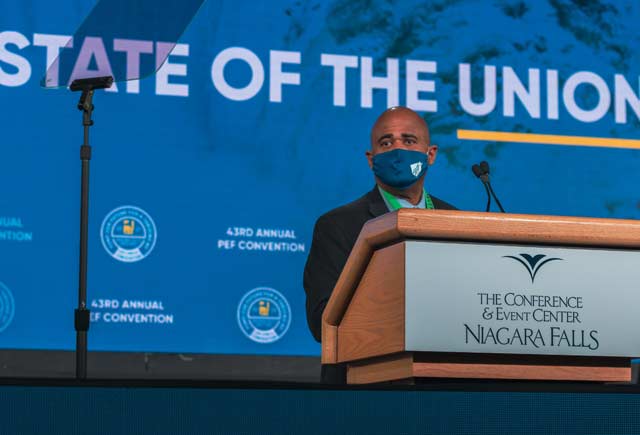 "You are the ones who make this union great," Spence told delegates as he began his annual State of the Union report.  "Thank you for your commitment."
No issue dominated PEF in the past year more than COVID and the need to protect members and their jobs, Spence said. The pandemic greatly raised the importance of telecommuting as a way to preserve many state services when non-essential workers need to work from home.
Spence outlined the ways PEF strived to stay in touch and give members timely updates and answer their questions, including holding dozens of telephone town halls and coordinating more than one-thousand Zoom meetings.  The union secured COVID benefits for members and four hours of uncharged leave for members to receive vaccinations and boosters.  It also saved state facilities threatened with closing and derailed proposed mergers of state agencies and research institutions.  And while all of this was going on, the union completed contract negotiations and members overwhelmingly ratified a successor collective bargaining agreement that provides 2% across-the-board retroactive raises dating back to 2019.
The president also told members they have earned their vacation time and should use it.  Vacation and leave time have a monetary value and if members apply to use it and are denied they should notify their PEF field representative.  "Because we will fight for that money," he said.
Spence identified underfunding, understaffing and privatization as the biggest threats the union is facing and said that is why it is fully committed to the new Fund Our Future coalition with its parent unions, AFT and SEIU, and community organizations nationwide working to protect and advance public service.
Spence was joined on stage by Vice President Randi DiAntonio, who urged delegates to participate in the Fund Our Future campaign by recording videos about the critical services they provide for New Yorkers.  More than 130 members visited the Fund Our Future studio during the Convention and those videos will serve as building blocks for a public awareness campaign. She also told them to spread the word about their work by talking with family, friends and neighbors about it.
"Everything we do was magnified during the pandemic," DiAntonio said.  "We worked 19 million hours of overtime!  The public will not know what you sacrificed for your fellow citizens, unless you tell them.  You are the engine that makes all things go.  Everyone should know they need you."
Spence added that "the state can't overtime its way out of a staffing shortage.  You were doing things you weren't even hired to do.  It seems like a lot of people forgot what you did.  You all did the essential work.  Let nobody diminish your service!"
Spence also highlighted other work the union continues to do to benefit its members.
"PEF filed more lawsuits against the state than any other union," he said.  "I will never stop fighting for you, but we have to do it together."
PEF building assets
Not every effect of the pandemic shutdown was negative. Curtailing union in-person meetings, travel and closing offices helped PEF end its 2020-21 fiscal year with an increase in net assets of $5.5 million, PEF Secretary-Treasurer Joe Donahue told delegates during his remarks on Oct. 26.
However, Donahue also noted that the state hiring freeze
that drove job vacancies to 5,000 had a negative affect on PEF membership that resulted in a 2 percent decline in dues income.   
Donahue urged delegates and local PEF officers and stewards to promptly reach out to new state hires and invite them to join the union now that the hiring freeze has been lifted.
During discussion of the secretary-treasurer's report, Spence said the union was able to pay for its headquarters renovations with cash, rather than borrowing the money.
Governor calls for change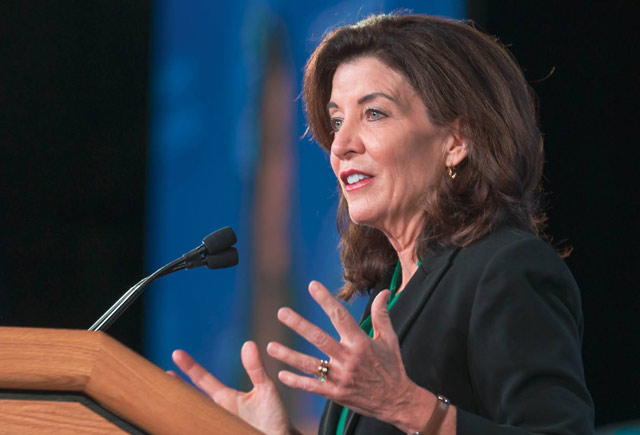 Gov. Kathy Hochul came to the convention and addressed the delegates at their first plenary session, calling them her "fellow public servants" and praising their commitment.
"You are the face of government.  You are an army of people doing good," Hochul said.
The governor commended them for their outstanding dedication and courageous service throughout the pandemic, and she singled out researchers at the state Health Department's Wadsworth Laboratories for their work that led to testing and vaccinations for COVID-19.
READ MORE: Governor: 'I'm committed to changing the workforce culture'
AG calls for change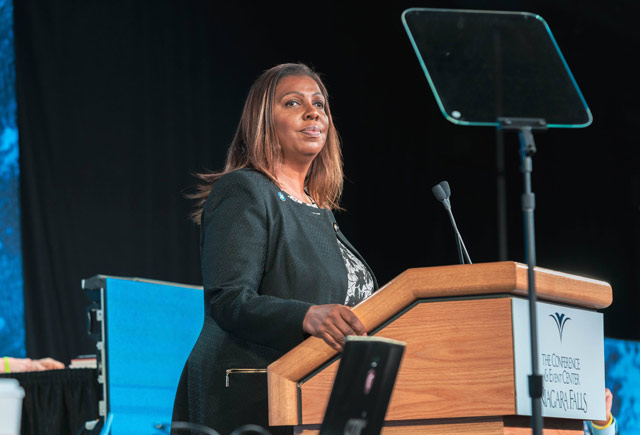 State Attorney General Letitia James also addressed the delegates in person, commending them for serving the state so well.  "When others were dying, you went to work.  And you lost 21 of your members to COVID.  You are the best at what you do, but you can't do it alone.  For your dedication, brilliance and heroism, you deserve fair wages," she told them. 
James said she believes "Power should come from the ground up, not the top down.  It's time we change how state government is run.  You are the professionals, and state policy decisions should be guided by your expertise and your data."
Just a few days later, James announced that (like Hochul) she, too, will seek the Democratic nomination for governor in 2024.
READ MORE: Attorney General Delivers Convention Keynote
Comptroller: economy, pensions strong
State Comptroller Tom DiNapoli kept to his tradition of meeting and speaking to delegates at the President's Reception and was, as always, well received at the heavily attended event.  DiNapoli thanked delegates and the members they represent "for being the incredible state workers you are. PEF members have kept the state working throughout the pandemic.  You got the job done for the people of New York because of your professionalism and your dedication." 
DiNapoli said every part of the Office of the State Comptroller reported "increased worker cooperation" from PEF Division 263, which represents the union's members there.  He thanked his PEF employees and said they proved privatization of state work doesn't make sense because state employees are more dedicated and you can rely on them when emergencies arise.
DiNapoli reported that the state's economy is recovering from the pandemic and the state pension fund is "still in good shape."  The fund is profiting from a whopping 33 percent return on its investments and the fund is 99.3 percent funded, he said.  In fact, the fund is in such good shape that he will allow the state and municipal governments to reduce their contributions to the fund.
The comptroller ended by reminding delegates to sidestep divisive issues because "in unity there is strength."
Delegates protected
The COVID-19 threat was not ignored.  One of the first things Spence told the delegates was that the virus had killed yet another member, this one from Region 7 in the north country, just a few days earlier and the In Memoriam salute to members and retirees who had died since the 2020 convention included a special tribute to those who fell victim to the coronavirus.
"It's tough to watch that," Spence said. "It's been a tough year and a half (since the pandemic began)."
In addition to many precautions PEF took at the convention to prevent the spread of infection, such as masking and social distancing, the union also popped up a vaccination clinic on Oct. 26 with the help of the Niagara County Health Department and Wegman's. More than 150 people participated.  Delegates also had the opportunity to attend a Health and Safety Breakfast and a workshop on how to hold your employer accountable for providing a healthy and safe workplace.
Constitutional change rebuffed
Delegates debated and voted on a proposed amendment to the PEF Constitution that would have changed the minimum amount of signatures required for nomination to union office from 10 percent of any given constituency to 5 percent. This was not the first time such a change has been proposed, and like those previous attempts it, too, was defeated. A simple majority of the delegates voted for it, but not enough to meet the two-thirds majority required to amend the PEF Constitution.
Solidarity for striking nurses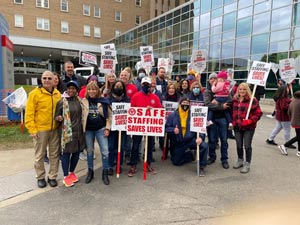 During the president's report on Oct. 25, Spence called a group of healthcare professionals from CWA Local 1133 to the stage and asked them to share their stories. The union members, who work at Mercy Hospital in Buffalo, are fighting for a fair contract and went on strike about a month ago. Spence and other PEF leaders walked the picket line with them the day before the Convention began. After their presentation, delegates "passed the hat" and collected more than $4,000 to support them during their strike. 
Former PEF presidents speak
Former PEF presidents Roger Benson and Ken Brynien addressed the delegates briefly, Benson by pre-recorded video and Brynien in person. 
Benson remarked on how a long list of important state elected offices that were filled by men just six years ago are now all filled by women.  "Are you seeing a pattern here?" Benson asked rhetorically.  "Things will change, and those who fail to plan are planning to fail."  He urged the delegates to be involved in the union and constantly hone their vision of how to shape their future.
Former PEF President Brynien urged delegates to keep fighting bad policies, bad laws and bad managers whenever and wherever they occur. 
"If we don't stand up and fight, nothing will change.  When we fight together for the common good, we win," Brynien said.  "For the sake of all of us, we've got to win every battle we can."
——-
READ MORE: Communicator Convention Stories:
PEF fought hard in 2021 – ready to step it up in 2022
Attorney General delivers Convention keynote
Governor: 'I'm committed to changing the workforce culture'
The fight for the public good needs all hands on deck
Teamwork, communication help make PEF financially strong
Convention delegates adopt 8 of 27 resolutions